Hair Loss
Hair Loss
It's very normal for everyone to shed some hair each and every day, but excessive hair loss is a big concern for both men and women. It can start with a just a few hairs falling out, or losing some when you comb your hair.
Sometimes, this excess hair falling off may later progress to baldness. Baldness refers to excessive hair loss from your scalp which can be either inherited or can be due to certain medications. Hair loss can also be a symptom of an underlying medical condition. We have a number of treatments available at The Laser and Skin Clinic to effectively stimulate hair growth.
How does Mesotherapy help in treating hair loss?
Mesotherapy is a non-invasive technique based on superficial microinjections, just below the epidermis, into the target tissues. NCTF works to improve hair loss and alopecia for both men and women. The treatment induces hair growth by revitalising the hair follicles and stimulating blood circulation. It also stimulates and strengthens hair follicles, improves scalp problems and increases thickness and fullness of hair throughout. NCTF will also moisturise and nourish your hair and scalp. Mesotherapy brings just the right materials to the exact place where it is needed (around the hair follicle) so that the hair follicle can grow and survive and the blood circulation is stimulated.
Is the treatment safe?
At our accredited skin clinics across Ireland we use RRS, a Hyaluronic Acid CE class III injectable product which is the purest Hyaluronic Acid for Mesotherapy. As Hyaluronic Acid is naturally found in the skin, and depletes naturally as we get older, it is completely safe to inject into the mesoderm and provides a very effective solution for skin rejuvenation and hair thinning.
Platelet Rich Plasma treatment or often termed as PRP or PRP Injections is concentrated blood plasma that contains approximately five times the number of platelets found in normal circulating blood. Apart from red blood cells and white blood cells, our blood also contains cells known as platelets. Platelets contain growth factors that promote regeneration of the cells in the body. The use of PRP to treat hair loss has become increasingly popular in recent years and can be combine with other treatments for optimum results.
How does PRP help in treating hair loss?
If the hair follicles or hair roots are healthy, the growth of the hair is healthy. Hair follicles survive on the nutrition they get from blood supply. If we introduce platelets by administering platelet rich plasma (PRP) in the area of damaged hair follicles, it amplifies the body's naturally occurring wound healing mechanism.
Is the treatment safe?
PRP does not pose any danger of allergy, hypersensitivity, or foreign-body reaction and it is a safe choice for many clients.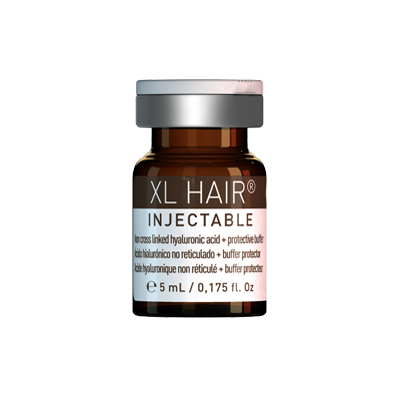 What ingredients are in XL Hair?
HA, non-cross-linked ,FGF, GM peptide, Sodium DNA, Amino acids, Trace elements, Vitamins, Terpenes, Fatty acids, Flavonoids, Antioxidants.
What are the indications for XL Hair?
XL Hair® is a new opportunity for the treatment of different baldness patterns and symptomatic hair loss made in conformity with EU Regulation.
XL Hair® formula, designed for superficial and deep dermal injections, is based on hyaluronic acid combined with a unique protective buffer which is acting by increasing proliferation of papilla cells whilst stimulating hair growth, increase the thickness of hair by improving skin nutrition and skin defence against internal & external stress and damage factors.
Watch Hair Mesotherapy
Watch Hair Mesotherapy
Before and After
Before and After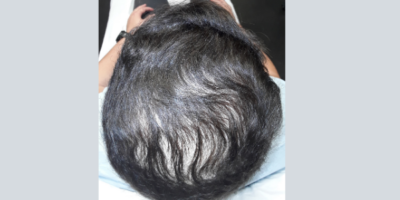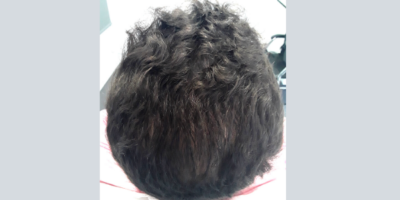 Join Our Newsletter
and be the first to know about our monthly Special Offers…
Join Our Newsletter
and be the first to know about our monthly Special Offers…
*Results and benefits can vary and are different for each individual. Therefore The Laser and Skin Clinic cannot guarantee specific results.