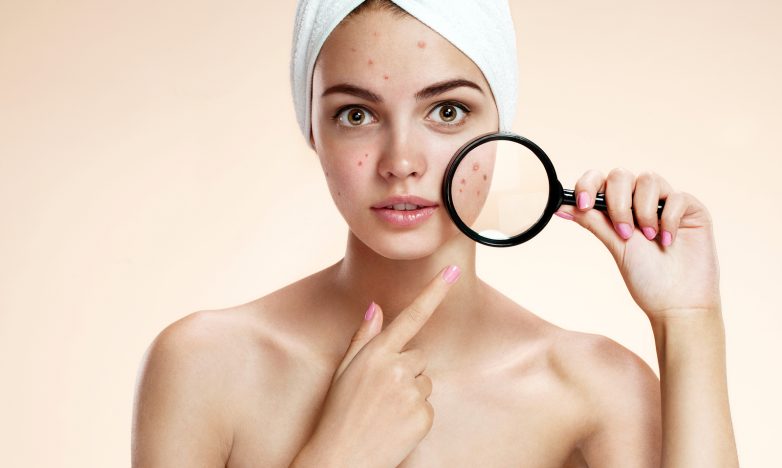 'How to get rid of spots?' – if I had a euro for every time my sisters asked this question! In 2015, acne affected an estimated 633 million people worldwide. It is quickly becoming one of the most common skin conditions that can affect anyone regardless of age, sex or race. It also comes in many forms, ranging from oily skin with blackheads and the occasional breakout to more severe conditions such as cystic acne.
What is happening to my skin?
You might be at the start of your acne journey or you might have been navigating these waters for some time. Regardless, the information you see online can leave you feeling confused. In order to treat acne, it is important to understand just how it effects your skin. What's really going on underneath the surface?
Acne is attributed to a hormonal imbalance. This imbalance can be caused by many factors: hormonal fluctuations, stress, etc. Those can in turn affect the function of the sebaceous glands, whose job it is to create sebum (oil).
The Good – This oil travels along the pore to hydrate and protect the skin on the surface.
The Bad – When too much oil is produced it becomes clogged within the pore and pairs with dead skin cells from the surface, this becomes the perfect breeding ground for the P acnes bacteria.
The Oily –  The P acnes bacteria is a naturally-occurring bacteria in our skin, but in this environment it rapidly multiplies causing inflammation within the skin. Eventually infection occurs which can damage the foundations of the skin resulting in unsightly scars. We will talk about the best treatments for scarring in our next blog. 
Okay, but how can I get rid of my spots for good? 
Oily, congested, acne prone skin are all hormonally stimulated. This means a combination approach is usually necessary to reduce the excess oil production caused by your hormonal imbalance. With so much information out there, we've broken down for you the options available to banish breakouts for good!
Active Homecare
Appropriate homecare is probably one of the most important things in keeping the breakouts at bay. Salicylic Acid, Retinoids and Benzoyl Peroxide are all hailed as gold standard acne fighters. Many dermatologists favour Salicylic Acid. It helps to break down the outer layer of skin so it doesn't mix with sebum while also speeding up the resolution of whiteheads. It's also a common agent in chemical peels. We recommend those for sufferers with moderate to mild acne. Indeed, they help banish acne lesions, pigmentary change and diminish superficial scars. Recent studies have also shown that benzoyl peroxide can help to prevent antibiotic resistance in acne.
Most cosmetic/over-the-counter brands do not have the correct percentage of active ingredients. They are also produced in large molecular structures that are unable to penetrate to where they are needed, meaning they cannot make a cellular change. Therefore, the effects will only ever be temporary. With many active cosmeceutical brands boasting patented delivery systems and potent active ingredients, a skin specialist will be able to help you choose a homecare routine to ban those breakouts.
Favourite Products
Alumier Salicylic Cleanser
Acne Clarifying Cleanser deep-cleans pores and calms skin for a clearer complexion. Salicylic acid exfoliates and clears pores while oligopeptide-10 reduces acne bacteria (P. acnes). Honey, niacinamide (vitamin B3) and rice bran extract soothe and hydrate skin, leaving it fresh, supple and comfortable. This product can only be purchased in-clinic, so give us a call to book a consultation and we will discuss if this product is suitable for your skin.
SkinCeuticals Phloretin CF
SkinCeuticals Phloretin CF is a powerful day-time antioxidant that uses some of the best ingredients on the skincare market to smooth and brighten skin. It contains 2% phloretin, 10% pure vitamin C and 0.5% ferulic acid to help shield skin from damaging free radicals and keep it protected from environmental damage.
Buy SkinCeuticals Phloretin CF HERE
Glo Oil-Free Moisturiser SPF 40
Although packed with hydrating ingredients such as Hyaluronic Acid and Pro-Vitamin B5, this daily sunscreen doesn't leave the skin feeling greasy or looking shiny. Added antioxidants protect against free radicals and oxidative stress while helping to gradually soften and smooth the texture of the skin with daily wear.
Buy GloTherapeutics Oil Free SPF40 HERE
Medik8 Blemish Control Pads
Medik8 Blemish Control Pads are an effective, alcohol-free blemish treatment that's tough on breakouts and gentle on skin. Pre-soaked in a clarifying maximum strength salicylic acid serum, Blemish Control Pads dissolve oil and dirt from deep within the pore to purify problem complexions. 
Buy Medik8 Blemish Control Pads HERE

 Advanced Nutrition Programme Skin Accumax
Skin Accumax is a skincare supplement from the Advanced Nutrition Programme. As it works from the inside, the skin over your whole body will reveal its natural radiance, not just your face. Skin Accumax contains DIM (a plant compound) that enables the active nutrients to work together much better than they would individually.
Topical Treatments
There are many topical treatments available to reduce the appearance of acne and breakouts. Some of the most results driven are:
Salicylic Acid Peels – These exfoliate the skin, decongest pores and reduce irritation. Their anti-bacterial and anti-inflammatory properties also help to minimise post-breakout and post-inflammatory markings left behind.
Chemical Peels – These medium-depth peels use trichloroacetic acid to treat acne and correct post inflammatory hyper-pigmentation post breakout.
Oral Medication Options
A number of oral medication options are available. Some of the most common ones are Accutane, the Pill and antibiotics. However, we recommend consulting your GP before venturing down this route.
Skincare Supplements
Another popular alternative to oral medication is oral skincare supplements such as The Accumax supplements from the Advanced Nutrition Programme. Full of vitamin A, C and E these supplements' unique formulation and patented technology help to clarify and clear the complexion naturally. These supplements contain a unique ingredient called DIM not found in any other skincare supplement. DIM works from the inside out, enabling active ingredients to work together much better than they would individually to become your skin's ultimate power team. Gluten and dairy free, the best part about these unique supplements is they nourish all the layers of the skin. They feed every cell in your body to clarify and clear your complexion. The skin on your whole body benefits too, without any side effects such as dryness or flakiness.
The Laser and Skin Clinic has been successfully banishing breakouts for over 15 years.If you are concerned with Acne/Oily Skin/Congestion, call one of our three clinics in Dublin, Mullingar or Athlone. Our dedicated team of skin specialists will be more than happy to book you in for a consultation! We will tailor a skincare plan to your individual needs and help you on the road to a clearer complexion.
Dublin: +353 1 6766527
Mullingar: +353 44 9347800
Athlone: +353 906 498839
'It takes only two days for a pimple to crop up and you need to give any topical preventive measure 42 days to kick in. The lifespan of a pimple is about six weeks, so that's the magic number for how long you should give a product before you give up.'
–  ELLE Magazine –
Share This Story