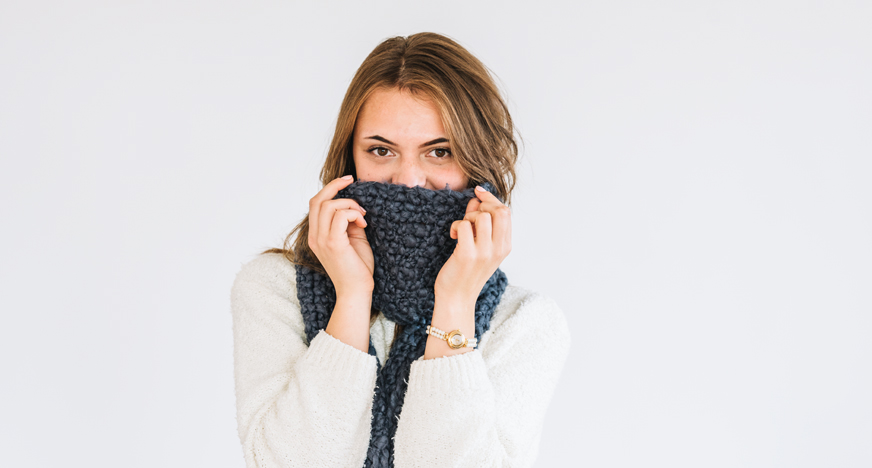 Wondering what winter skincare you should have to protect your skin from harsh weather conditions?
Most of us have experienced a typical Irish winter – very cold winds, plummeting temperatures and lots of rain. Our skin is tough, but in harsh weather conditions it needs a little TLC to keep it in the best of health. We have compiled the best ingredients for your winter skincare, and some products that contain those ingredients to make your new skin routine easy to start now!
1. Hyaluronic Acid
We've all heard of hyaluronic acid by now, but what exactly is it? This miracle skincare product has skyrocketed in popularity recently, and it's easy to see why. Hyaluronic Acid is naturally produced in our own skin, which helps to build moisture and ensure our skin looks plump and youthful. The older you get, the less hyaluronic acid your skin produces. This results in dry skin with fine lines, texture and sensitivity. Topically applied, it helps to hydrate the skin and maintain this hydration as a humectant, a substance that draws moisture to the skin. Hyaluronic acid can hold up to 1,000 times its own weight in water, so it is a highly effective hydrating ingredient!
Hyaluronic acid has a very important place in your winter skincare routine. The perfect product with Hyaluronic acid to hydrate your skin over the winter months is the ever-popular Hydrating B5 from SkinCeuticals. This contains high levels of hyaluronic acid and Vitamin B5, which increases moisture levels and helps to bind moisture to the skin. With daily use, this gel helps repair tissue damage and nourishes skin.
2. Ceramides
Another great ingredient is Ceramides. Ceramides are lipids that help form the skin's barrier and help skin retain moisture. They also help the skin protect against environmental aggressors like irritants, and pollution. Without the proper ratio of ceramides, the skin's barrier can become compromised, leading to dryness, itching and irritation.
A popular product containing ceramides is the Vital C Hydrating Repair Creme from Image Skincare. This rich, reparative crème quenches dryness, soothes redness and comforts irritated skin.
3. Shea Butter
Our third ingredient is Shea butter. It is a well-known moisturising ingredient that comes from the nut of the African shea tree. Naturally rich in vitamins A, E and F, it is widely used as a moisturiser or lotion but can also be incorporated into food preparation. When applied topically, this can aid the reduction of skin irritation due to its cinnamic acid content, while aiding the skin's natural collagen production and hydrating abilities.
A popular moisturiser we recommend in our clinics is the Obagi Hydrate Facial Moisturiser, containing shea butter, mango butter and avocado to help combat skin dryness without clogging your pores. Designed for all skin types, Hydrate is dermatologist-tested to be non-irritating and non-sensitising, so you can ensure that it's been clinically proven to be safe.
4. Botanicals
Botanicals are natural plant extracts from herbs, flowers, and seeds which can work wonders for skin ailments. Today, botanicals have become the future of the cosmetic industry. Their natural benefits have proven to work wonders on all skin types!
A customer favourite is the Vital C Hydrating Facial Oil by Image Skincare, which not only replenishes moisture levels in the skin, but also contains those amazing botanicals such as sea buckthorn, moringa, and grapeseed oil help to visibly brighten tired skin.
5. Amino Acids
Finally, Amino Acids round off our ingredients list. Amino acids are the building blocks that make up your skin- without them, you won't get very far in your journey to good skin! They're essentials in the synthesis of collagen. This means that by replenishing amino acid levels, you are also boosting your skin's youthful appearance! The Retexturing Activator from SkinCeuticals replenishes amino acid levels in the skin. It also helps to reinforce the skin's barrier for healthier, more radiant skin. Perfect for winter skincare!
All of our products are available in our three clinics in Dublin, Mullingar and Athlone. You can also purchase them just in time for Christmas on SkinShop.ie!
Dublin | 01-6766527
Mullingar |  044-9347800
Athlone | 090-6498839
Share This Story