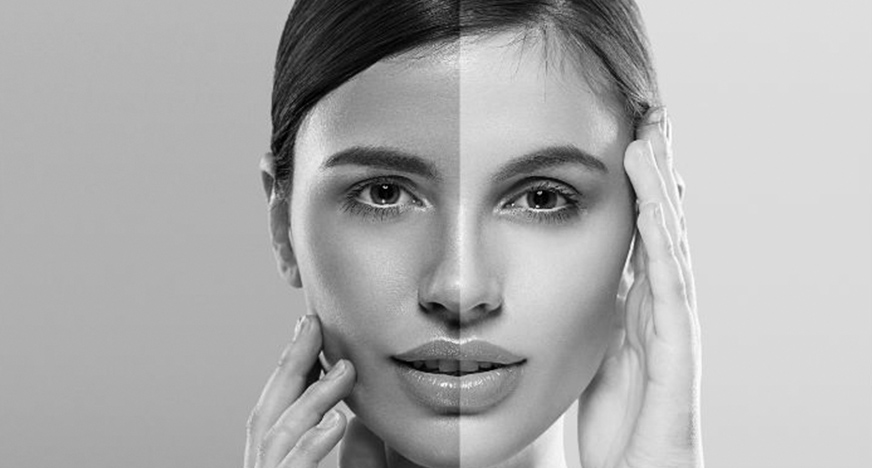 So, what exactly is 'Skin Brightening'?
We've all heard of the buzzwords 'illuminating' and 'glowing' when it comes to makeup, but a recent popular product as of late in the skincare realm is the 'skin brightening' product. This product differs from the glittering cosmetics you're used to, and has quite a few benefits you may not know of.
Intrigued? Let's break down what skin brighteners actually are.
Skin brighteners tend to fall into two categories. The first one reduces and removes pigmentation like sun spots, acne scars, melasma etc., while the second one encourages cell turnover. This results in a new layer of skin forming on the surface and speeding up the flaking away of dull cells.
The benefits of skin brightening
Skin lightening products simply brighten the skin and help to remove superficial pigmentation that may appear later in life, like sun spots. Not only does it help to remove these spots, many skin brighteners tend to contain antioxidants that allows the skin to feel nourished at the same time. So not only can skin brightening products reduce the appearance of sun damage, it can also give you a dewy glow.
A good skin lightening product available on the market is Iluma Intense Lightening Serum by Image Skincare. It contains botanical lightening ingredients to help decrease discolouration, while green tea extract serves as an anti-inflammatory ingredient. It also contains the antioxidant Vitamin C, which helps protect the skin from further damage. This is also suitable for those who prefer a hydroquinone-free alternative to skin lightening.
Available on SkinShop.ie. CLICK HERE to Buy
How skin brightening works
Skin brighteners work by utilising botanicals and antioxidants to reduce inflammation and brighten dull areas. They also do a number of other things to help tackle dullness and pigmentation, including:
Transports spheres of proprietary active ingredients deep into the skin
Brightens skin and lightens the appearance of discolouration
Promotes more even skin tone
Calms irritation
Reduces the appearance of redness
Iluma poducts are unique in their combination of anti-inflammatory properties combined with brightening. Vectorize Technology utilizes up to 100 layers of active ingredients such as stem cells and peptides into sphere-like molecular structures. Once applied to the skin, the encapsulated ingredients are time-released, layer after layer, offering deeper product penetration for a prolonged period of time while delivering unparalleled results.
How to get started
Have an area of concern that you think might benefit from skin brightening products? Or do you want to revive dull skin? Why not try the Iluma Travel/Trial Kit from Image Skincare, which contains 5 travel-sized Iluma products:
Lightening Cleanser 7.4ml
Lightening  Serum – 7.4ml
Brightening Creme – 7.4ml
Lightening Body Lotion – 7.4ml
Prevention Ultimate Protection SPF50 – 7.4ml
This kit is also a great way of trying out the range and discovering its benefits before committing to a full-sized product. See the product below:
Available on SkinShop.ie. CLICK HERE to Buy
All our Image Skincare Iluma products are available on SkinShop.ie You will also find many other brands there such as Dr Levy, Revitalash and more!
Want some product advice? Our clinics are ready to take your questions so call one of our clinics below:
Dublin | 01-6766527
Mullingar | 044-9347800
Athlone | 090-6498839
Share This Story